While most people know that vitamin D is important for strong bones and teeth, muscles, and overall health, nearly a third of all Australians aren't getting enough. For most, just getting out in the sun for a few minutes more each day will boost your vitamin D levels. But because we're all stuck inside due to the pandemic, we're not getting as much sunlight as we usually would.
The good news is that sunlight isn't the only source of vitamin D. Here is everything you need to know about vitamin D, including how to get enough without going outside.
Health benefits of vitamin D
To put it simply, vitamin D controls calcium levels in the blood that are required for maintaining bone and muscle health. In addition, research suggests that vitamin D may also play a role in reducing your risk of multiple sclerosis, decreasing your chance of developing heart disease, and helping to reduce your likelihood of developing the flu, as it's known to boost the immune system.
In fact, one study published in The BMJ found vitamin D supplements protect against acute respiratory infections including colds and flu. While another study published in JAMA Internal Medicine found vitamin D may be an important way to arm the immune system against infections like the common cold.
Additionally, vitamin D plays a role in boosting your energy levels and mood. If you're constantly feeling tired, fatigued and lacking energy, there's a possibility that you may be low in vitamin D.
Other common symptoms of vitamin D deficiency include:
Bone loss
Hair loss
Muscle pain
Depression
Osteoporosis.
Getting enough vitamin D
Your body makes vitamin D naturally when sunlight hits the skin, but most of us don't get the required amount of sunshine per day, so adding vitamin D to your diet is super important. According to leading nutritionist and Australian Eggs ambassador, Joanna McMillan, eggs are one of the highest natural sources of vitamin D — an average serve of eggs provides 82 per cent of the recommended daily intake for adults. If you're bored of just plain eggs on toast, why not whip up an omelette every now and then?
McMillan also recommends adding oily fish, like salmon or mackerel, to your daily diet at least two to three times per week. If you're not too fussed on salmon by itself, a classic patty recipe may be the way to go. Salmon patties are delicious and also super budget-friendly because they can be made from tinned salmon and leftover mashed potatoes.
Other foods containing vitamin D include beef liver, cheese, mushrooms and fortified foods like orange juice, soy milk, cereal, and oatmeal. "Boosting your vitamin D intake through foods can be an easy way to ensure you're getting a vast number of nutrients and staying healthy for longer," McMillan says.
If you're trying to add more vitamin D to your diet, here's a delicious baked eggs recipe to try — perfect for something a little bit different!
Baked eggs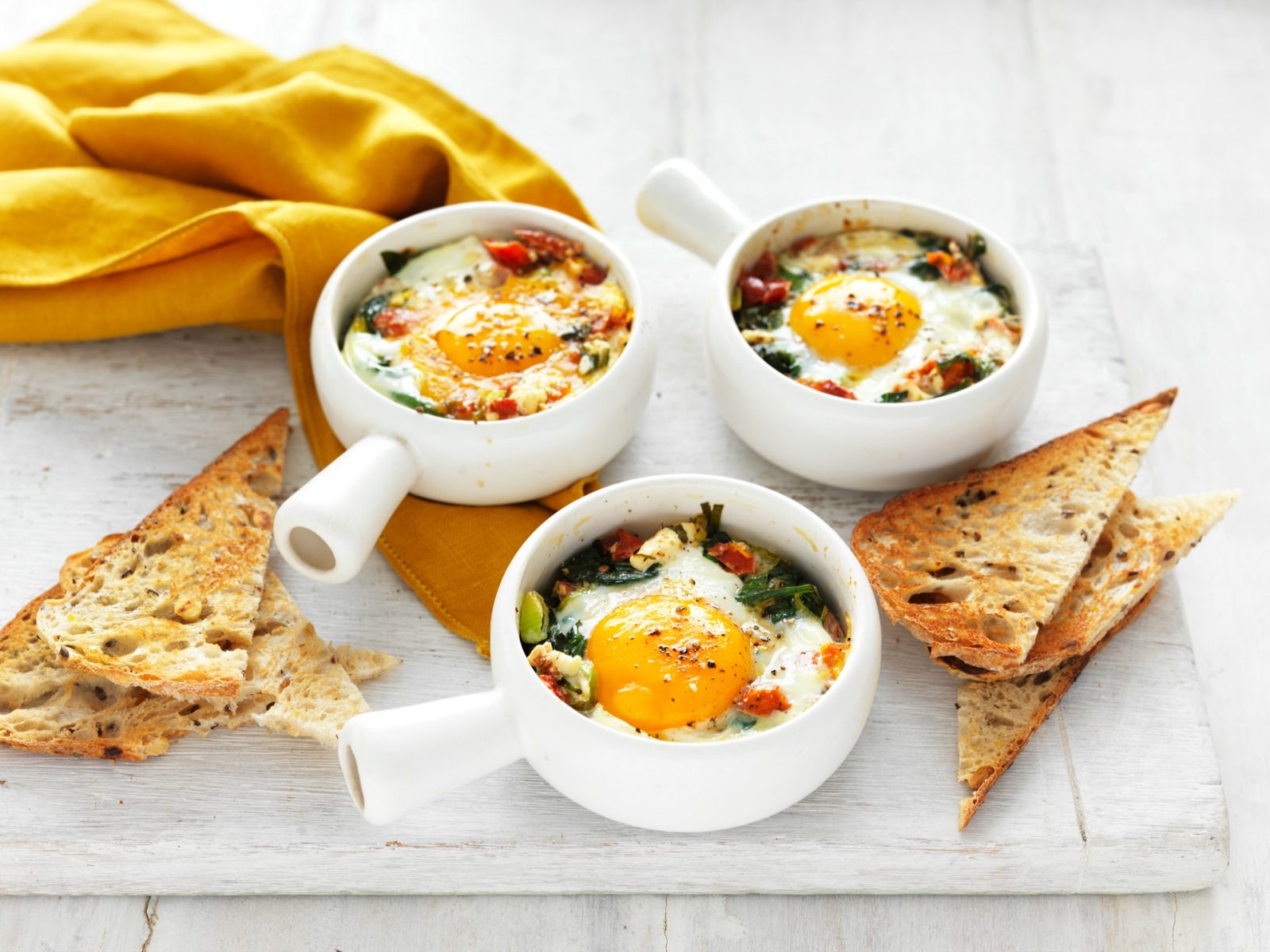 Ingredients
• 4 eggs
• 120g baby spinach leaves
• 100g semi-dried tomatoes, chopped
• 70g Danish feta cheese, crumbled
• 2 tbsp roughly chopped fresh basil
• 4 shallots, thinly sliced
• 1 tbsp olive oil
• Wholegrain toasts, to serve
Method
1. Preheat the oven to 180˚C/160°C.
2. Lightly spray four 250ml capacity ovenproof ramekins with oil.
3. Place spinach in a heatproof bowl and pour over enough boiling water to cover it, then set aside for 10 seconds then drain. Once cool enough to handle squeeze out excess water.
4. Combine the spinach, tomatoes, feta, basil and shallots in a medium bowl and divide the mixture evenly between the prepared ramekins, and drizzle each with 1 teaspoon oil.
5. Place dishes on a baking tray and crack an egg on top of each dish.
6. Cover the ramekins with foil and bake for 15 minutes or until the egg is cooked to your liking. Season with black pepper to taste and serve.
Important information: The information provided on this website is of a general nature and information purposes only. It does not take into account your personal health requirements or existing medical conditions. It is not personalised health advice and must not be relied upon as such. Before making any decisions about your health or changes to medication, diet and exercise routines you should determine whether the information is appropriate in terms of your particular circumstances and seek advice from a medical professional.